Church Marketing 101
---

When starting up a new church or trying to reach out to the community for a long established church, there are certain basic rules for marketing you should give some thought to.
Each of your marketing materials are your representatives, telling your churches story. Making a good first impression is essential and all of your marketing materials should work together to draw people, increase and grow your congregation. Below are some marketing ideas to think about.

1. Your message must be clear and concise. Learn to sum up your message in a single sentence. Once you can do that, you'll know you have the focus you need to keep your marketing message to the point.
2. Marketing is all about your church, it is about the people you are trying to reach. Craft your marketing material to their needs, what services or programs you have that can help them and their families.
3. You need a plan. Marketing is one of the most important things you can do to grow your church, but it can be time consuming and eat into your budget if not done right. That's why you need a solid plan first. A plan will help you set objectives and work out how to meet them.
4. Determine your call to action. Why should people join your church, what makes your church different from other churches they may have been to and left. What makes your church different and unique? You need to know the answer to this before you open your church.
Whether it's website content or a Facebook status, if your content is boring or repetitive, it will be hard to convince people to join your church or to come back again. Your content must capture people's attention and be informative. Many people, especially younger couples (singles), will not even visit your church until they have done their research on line.
Also your congregation will want to know what is going on, and whatever it is let them know and give them compelling reasons to want to be part of it. Everyone wants to feel they belong, to be part of something. If you want your church to grow you will make this a priority.
5. Narrow your focus. If you try to be all things to all people, especially starting out, you run the risk of appealing to no one. Think of what you do best, market that. What programs are you the strongest at? Start there and develop them first. As your church grows and your congregation matures you can add new programs.
Set yourself apart, develop your own way of presenting your message and share it in a distinctive style. Think about who your community is and craft a message that will resonate with your community. Share it in a distinctive, authoritative, passionate voice. Don't be afraid to show some personality. Be confident in what you have to say, if you show you believe it, your audience will believe it. You need to set yourself apart.
6. Once your marketing brings people in, you need to show people how your church can benefit their lives. Everyone has problems, reach out to them show them you (Jesus) cares and how you can help them improve their lives and the lives of their families. By sharing information (scriptures) that solve problems for your congregation you will begin to develop a reputation as a knowledgeable, helpful and reliable church and a place people can go to find help. Word of mouth is the best advertising a church can have.
7. Know your neighborhood. You know about Jesus, but how much do you really know about your new neighborhood or about the people you are trying to reach. Take time to develop your churches personality. Make sure it matches the neighborhoods. Get out, take a walk, talk to the people, find out who they are, how they live, what their problems are. It's hard to fit a round church in to a square hole, make sure your marketing materials fit the people you are trying to reach. Understand their needs where they come from and the problems they are facing.
8. Most pastors think they can send out a few postcards advertising what their church offers and sit back and wait for the people to pour in. It doesn't work like that, although post cards mailings are one of the most effective and cost effective ways of marketing, it has to be combined with related marketing strategies
Surprisingly, 66% of marketing consultants consider phone calls a good or excellent lead source that influence people's decision making on various products and services.
Example: Women to Women.... Hi my name is______________________and I am calling from ABC Church. We are new to the neighborhood and I just wanted to call and introduce myself and to see how you and your family are doing? Is there anything we can help you with or anything you need prayer for. Listen…….tell them about the church…etc, etc, etc.
Men or couples are better and safer for door knocking. Hand out flyers or leave door hangers when no one is at home, telling about the church and what you have to offer.
Other successful lead generators include, 38.7% e mails, 28.7% Facebook followed by Twitter and LinkedIn. All your advertising should drive people to your web site.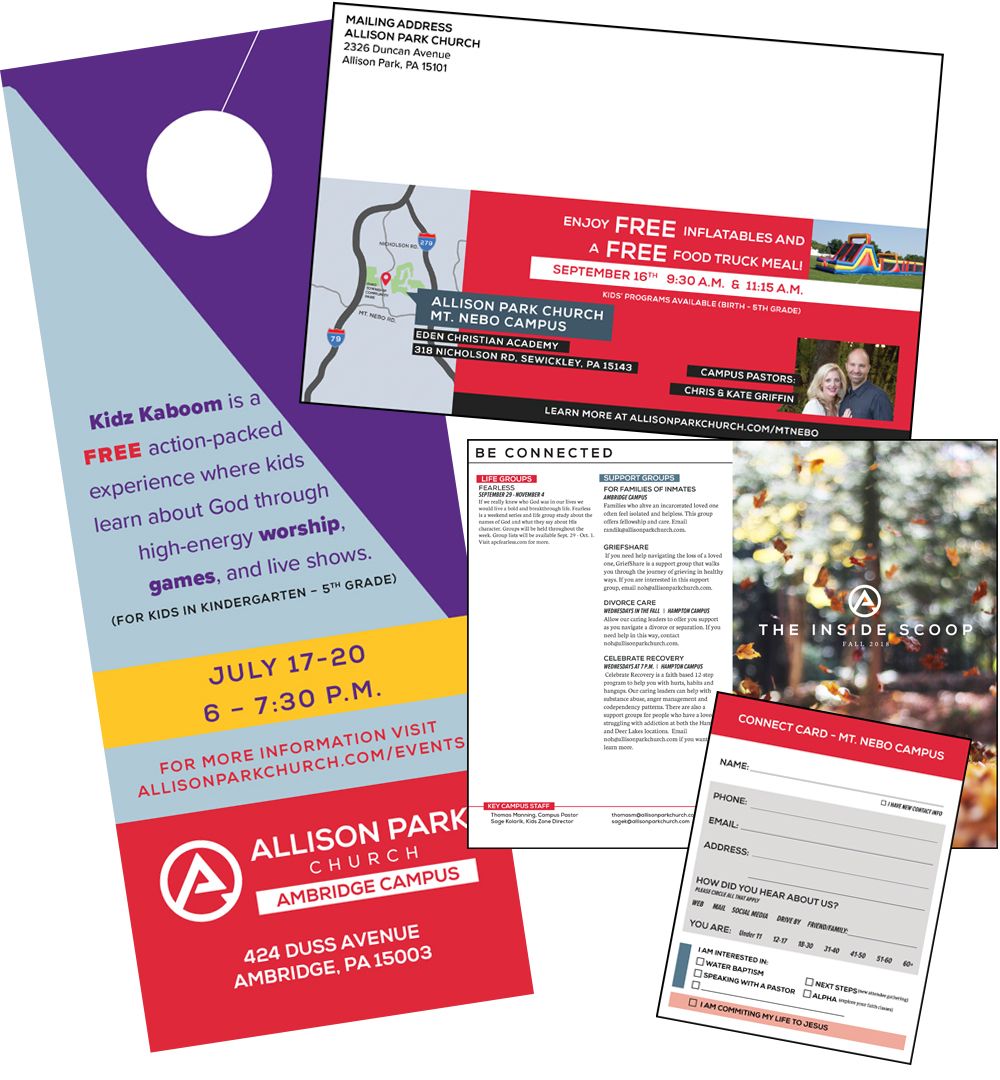 POST CARD MARKETING
Postcards make sense for any church, combined with a new program from the U.S. Post Office called EDDM, (every door direct mail), postcard marketing becomes the most cost effective and productive form of advertising your special events, Easter, July 4, Summer Programs, Christmas, etc.
EDDM. Every Door Direct Mail is a special discount on postage given to advertisers on mail pieces who follow certain Post Office requirements. Pick any zip code and the Post Office will deliver your piece to each and every house in that zip code broken down by carrier routes. A carrier is an area covered by a mail carrier delivery route approximately 600 homes. You must mail to an entire carrier route. You can cover an area as large or small as you want.
A 6.25" x 9" 2 sided full color postcard is only .39 cents each. This includes printing, addressing, postage and delivery to the post office in your target neighborhood. Want something a little larger? A 9" x 12" postcard is only .44 cents each.
According to the USPS, the average consumer receives 157 emails a day but only two direct mail marketing pieces. A well designed direct mail piece that includes eye catching graphics or messaging has a much better chance of getting people's attention. Continuing to use direct mail with links to specific landing pages on the web can be an effective way to introduce your church social program or events.
Postcard marketing gives you the most exposure for each dollar spent especially with the Post Office discount on postage. It can drive a huge amount of traffic to your website, Facebook page, or twitter page, it can help open up an entire neighborhood to your church when used properly.
If you have any questions you have concerning marketing we would be glad to help with. Call Jim Omalley at 412.826.9450 or email, jim@printandcopycenter.com, or go to our website www.printandcopycenter.com.
---
WE LOVE JESUS!
If we can be of any help to your church please give us a call.
There is no charge for church consulting services.
Have a blessed day!
Jim OMalley, Owner
jim@printandcopycenter.com
412-826-9450