Political Postcard Mailing
---
WE ARE CURRENTLY NOT DOING ANY IN-HOUSE MAILINGS AT THIS TIME. IF YOU ARE INTERESTED IN A MAILING, PLEASE CONTACT US FOR DETAILS. WE ARE USING ANOTHER MAIL HOUSE AT THIS TIME. THE MINIMUM ORDER FOR A MAILER AT THIS TIME IS 2000 PIECES. PRODUCTION TIME IS 5-8 BUSINESS DAYS. THANK YOU FOR UNDERSTANDING.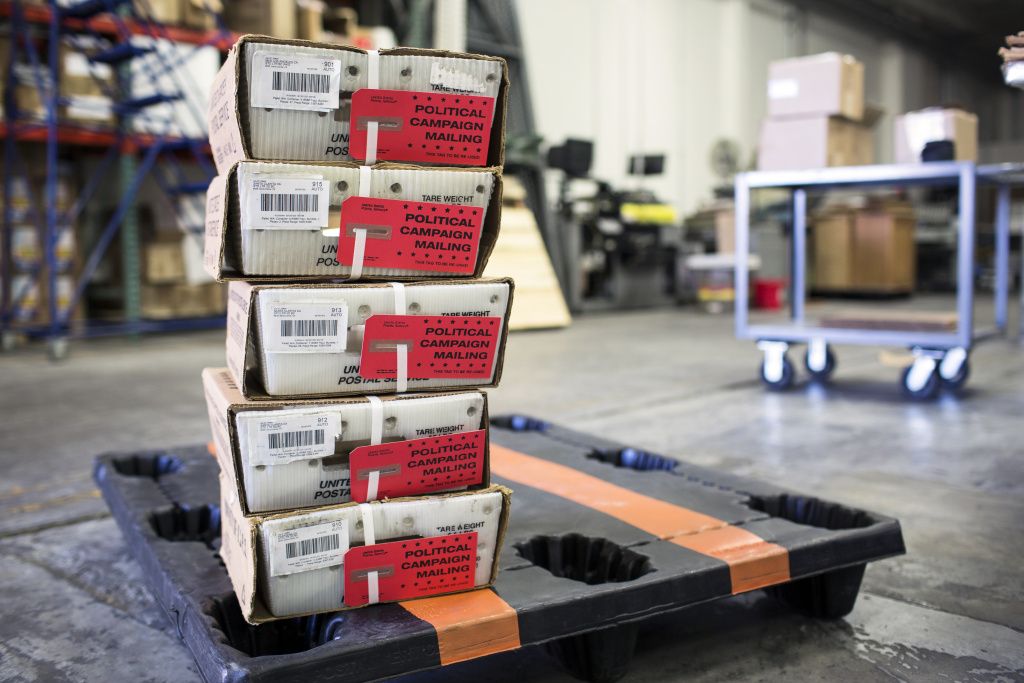 Benefits
You immediately save on shipping charges because we do not ship mailers via UPS or FedEx. We deliver your mailing, ready to go, directly to the post office.
- Time is valuable and we understand this. We can help you to save time since we do your mailing for you immediately after printing.
-  As a mailing customer, you will have use of our permit to obtain the lowest possible discount for your bulk mailings.
-  The software we utilize assigns a full electronic barcode to each address so the pieces go through the post office's automated system much faster.
-  We CASS certify your list and remove all duplicate addresses to assure you 100% valid addresses. This saves you from sending out undeliverable items.
---
Submitting Your Mailing List
We accept mailing lists via e-mail in many formats, the most common are:
Excel- Please make sure each field is in its own column.
Example: Company, Contact, Street Address, City, State, Zip Code
Example: First Name, Last Name, Street Address, City, State, Zip Code
---
REGULAR BULK MAIL - Postage Prices
Mail List Certification and Spray Addresses:
0-6000....................................................$.10 each
6000-10,000...........................................$.08 each
10,000 and up........................................$.06 each
Machine Set-up/
Disc Conversion..........................................$80.00
(Includes barcode, cass certify, bulk sort,
and ink jet address)
Delivery to Post Office................................$40.00
Insert and Seal set-up.................................$20.00
1-1000...........................................................$60.00
---