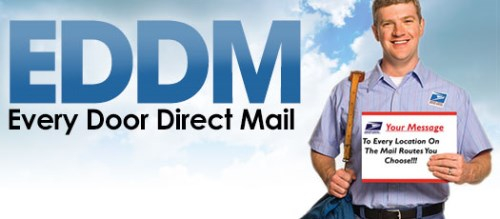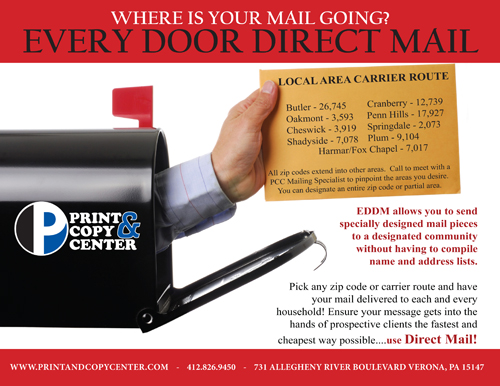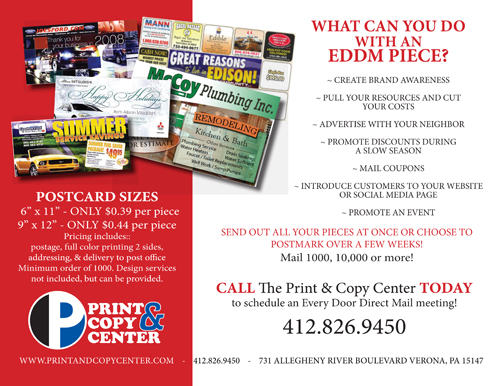 Every Door Direct Mail (EDDM) allows you to send specially designed direct mail pieces to a designated target audience of your choosing. Whether you're mailing 1,000 customized direct mail pieces or more than 10,000, you'll get the same, consistent high-quality prints from The Print & Copy Center. We work with you to formulate a strategy that will work best for your business.
Every Door Direct Mail allows you to:

Increase brand awareness
Introduce new products or offerings
Mail coupons
Maximize your marketing and advertising resources
Promote an event
Promote discounts during a slow season
Target a specific segment of your audience

With several years of EDDM experience throughout Pennsylvania and especially in cities like Pittsburgh, Butler, North Hills and Greensburg, you can rest assured you'll be delivering a customized direct mail piece that will grab your audience's attention.
---
How does your mailpiece measure up?
Before mailing your EDDM piece, check your design to make sure it goes!
* Must be Standard Mail Flats only.
* The "length" is always the longest side (regardless of orientation).
* Must be 0.0007" thickness or greater (approx. 3 sheets of paper).
* Send up to 5,000 mailpieces a day per ZIP code.
* Must weigh 3.3 ounces or less.
* Requires consistent bundling with facing slip. Recommended bundle size is 50 to 100 pieces.
DIMENSIONS
NOTE: Your EDDM piece must meet one of the following requirements:
* Over 10.5" long (if over 10.5" long, the minimum height is 3.5")
* Over 6.125" high (if over 6.125" high, the minimum length is also over 6.125")
* Over .25" thick (if over .25" thick, the smallest mailable piece is 3.5" x 5")
Eligible Postcard Sizes
4x11, 4.25x11, 6.5x8, 6.5x9, 6x11, 6.5x12, 8x10, 8.5x11, 9x11, 9x12
EDDM allows you to send specially designed mailpieces to a designated community without having to compile name and address list. Pick any zip code or carrier route and have your mail delivered to each and every household! Ensure your message gets into the hands of prospective clients the fastest and cheapest way possible!
- CREATE BRAND AWARENESS
- PULL YOUR RESOURCES AND CUT YOUR COSTS
- ADVERTISE WITH YOUR NEIGHBOR
- PROMOTE DISCOUNTS DURING A SLOW SEASON
- MAIL COUPONS
- INTRODUCE CUSTOMERS TO YOUR WEBSITE OR SOCIAL MEDIA PAGE
- PROMOTE AN EVENT
6" x 9" - $0.39 per piece
9" x 12" - $0.44 per piece
Pricing includes: postage, full color printing 2 sides, addressing, & delivery to post office. Minimum order of 1000. Design services not included, but can be provided.